04/09/2007
Updated 11/13/2008

Arizona


---
Hello there! Well, let me introduce myself to you. My name is Lori Vann, but they call me Luscious Peaches! I prefer you call me Luscious because I am. :-) I am a very sweet girl and fun, too. I'm a white girl. I'm 25 years old. I'm 5'2", I weigh 120 lbs., I have hazel eyes, I have long brown hair, I have a 36DD, my waist is 24 and my butt is 36. I hope you like my photo and you want to write me, too!
When you get a photo of yourself, please send me one so I know what you look like, too. What I am looking for is a pen pal, lover, husband, friend or just to have some fun! I am looking for all of the above, and maybe even a long term relationship as well. Who knows, right?
Now I will share with you what I like. I'm open minded to anything. I'm down to earth. I love to have fun and I like being around people who can make me laugh. :-) I like all kinds of music, too. I like to read, write and love alot of mail, too. I like going to the movies, going to clubs & dancing and going out to dinner with a man, and I treat my men and women like royal gold. I don't cheat on my men and women either, or play games, either. I am a real person.
I like art, drawings & poems & jokes. I love what is in the bedroom and I'll try anything once or twice!! :-) I've never been married. I have a child. I love to travel. I like to stay fit and work out, and if you love to have smiles on your face all the time, I would be the one to brighten your day! And have many happy holidays to you.
If you like what you hear, get back to me as always. Peaches! :-) Can't wait to hear from you soon.
P.S. Don't keep a hot girl waiting too long now! :-)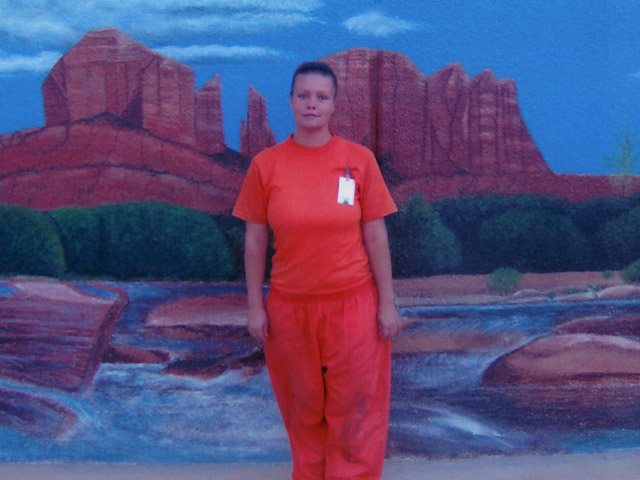 Race:
White girl
Sexual Preference:
Men & women
Date of Birth:
09/15/1981
Age:
27
Release Date:
12/14/2027
Marital Status
Single
Height:
5'2"
Weight:
163 pounds
Measurements:
36DD-24-36
Hair Color
Brown
Eye Color:
Hazel
Religion:
N/A
Children:
One
Education:
12 years
Occupation/Career:
Going to college
Reason for incarceration:
Sales charge
Willing to relocate?
Maybe
Posted: 04/16/2007 - Expires: 12/14/2027 - Ad Code: F07-225
Write to me at:
Lori Vann #194198
Arizona State Prison Complex, Perryville, Santa Cruz
P.O. Box 3200
Goodyear, AZ 85338-0903