09/08/1997
Updated 11/07/2008

Texas

Black beauty in search of a man looking for a wild ride and some bronco busting fun. Are you ready to ride? This filly wants to be pampered and spoiled. Relocate yes, age preference any. Education plumber, truck driver CDL-A, a/c repair, grill cook, baker and computer, garden. I enjoy sports all kinds, art mechanic, electronics, poetry photography, travel and a lot more. I'm outgoing, intelligent, motivated individual into health fitness and success.

If you would be interested in developing a truly unique personal and Special Relationship with me, please write and tell me about yourself.

Seeking companionship, to share common interests to spend time together to overcome loneliness, to enjoy one another company, playmate, soulmate, to share my goals, dreams, desires, innermost thought fantasies, feeling emotions and who will share his heart and soul with me. Let's correspond and chill and inspire one another over a long term basis, me and you, eye to eye, heart to heart.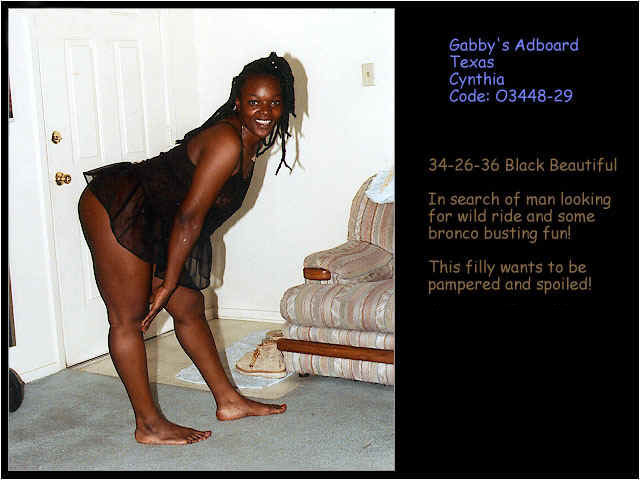 Race:
Black
Sexual Preference:
Both
Date of Birth:
08/15/1964
Age:
43
Projected Release Date:
Life sentence
Parole eligible 01/14/2033
Marital Status
Single
Height:
5' 7"
Weight:
n/a
Measurements:
n/a
Hair Color
Black
Eye Color:
Brown
Religion:
Native American
Children:
No
Education:
Truck Driver CDL-A
Occupation/Career:
Truck Driver CDL-A
Reason for incarceration:
Murder
Willing to relocate?
Yes
Posted: 09/11/1997 - Updated: 11/07/2008 - Expires: 01/14/2033 - Ad Code: O3448-29
Write to me at:
Cynthia White #1210927
Mountain View Unit B2-21
2305 Ransom Road
Gatesville, TX 76528-2962